Last summer's rise in mortgage rates has begun to impact the lending environment. The major bellwether mortgage lenders (J.P. Morgan & Wells Fargo) reported 28% declines in mortgage origination in the first quarter of 2014 as compared to the prior quarter. Moreover, the lending market at a whole is down 58% year over year. While mortgage rates have remained stable of late, they are still at 4.5% as compared to 3.6% a year ago. This trend could hamper continued progress in the housing recovery.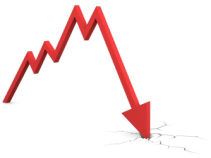 Why has mortgage lending decreased?
The demand for mortgage refinancing has changed dramatically over the past few months. We believe that much of this decline is related to less individuals refinancing their homes. In comparison, loans that were used to purchase new homes were actually flat year over year. However, the environment overall has changed and new mortgage applications were down in recent weeks. It may be that the 25 year credit boom ended and now we need to get use to the new normal.
When demand falters, lender requirements ease
The lending market will become even more competitive in the coming months. There will be a lot of lenders chasing very few prime mortgage borrowers. The result will be that many sub-prime borrowers may become eligible to obtain a mortgage. Several banks have begun to accept applications from borrowers with lower credit scores and down payments than in the recent past.
What does this mean for you?
It varies by region, but generally we expect lending to continue to decrease throughout the year. It's important to note that there has been a surge in all-cash purchases to more than 40%, which has kept housing prices rising. That may change going forward. Even so, mortgage rates are still relatively low on a historical basis, thus we don't believe housing growth will fall off of a cliff; just more muted.
More questions? Browse answers or get help with your mortgage questions online.

Related Articles
->The Rules For Reverse Mortgages Have Changed For The Better
->Is It Risky To Use A Mortgage Broker?
->Is Renting Or Buying Cheaper Now That Rates Are Rising?
->Should You Refinance Or Buy Now Since Mortgage Rates Are Rising?
->What Should I Know When Negotiating A Mortgage?
->Should You Be Worried That Mortgage Rates Are Now Rising?
->How Far In Advance Are You Locking In Your Mortgage Rate?
->Jumbo Mortgages Are Back In Style
->Refinancing a Second Home
->Should I Refinance My Mortgage?