The recent rise in mortgage rates and home prices have some potential buyers thinking about renting. Specifically, rates have risen substantially over the past six months or to nearly 4% for a 30 year mortgage. Housing prices are also on the uptick with a 10% year over year increase or more in most markets. Still, does the rise justify the fact that some buyers are thinking about renting instead?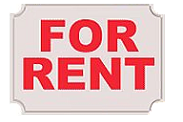 Is buying still cheaper?
Without question it is cheaper to buy a home than to rent. While rates and housing prices have risen lately, potential buyers need to be cognizant of the fact that the increase is based on all-time lows. In many respects, mortgages and homes that were dirt cheap are still very cheap or a good value from an historical perspective. If we quantify it, the 50 basis point rise in mortgage rates translates to less than a $80 to $90 after-tax monthly increase in mortgage payments for a $300,000 mortgage. Yes, every dollar counts, but this is certainly still affordable for most buyers.
When will renting be cheaper?
It's very difficult to say without reviewing each individual market and mortgage rate separately. Remember, there are two major variables: mortgage rates and home prices, which can vary by market. However, in most cases and based on historical standards, when mortgage rates rise to high single digit or low double digit levels, renting is typically cheaper. Markets that were hit very hard by the housing bust such as Detroit and parts of Ohio will likely be in the, "buying is cheaper," mode for quite some time.
Your financial condition is most relevant
Market conditions are a factor to consider when purchasing a home. However, your personal financial condition should play a greater role in determining whether or not you should be a buyer or renter. It's very easy to be talked into purchasing a home because rates and prices are low. However, if you can't afford a home then there shouldn't a discussion.
When will rates and prices rise considerably?
We believe that much of the future lies in the Federal Reserve's monetary policy. They may be trying to gauge the market's reaction to their recent commentary to determine whether they will begin to reduce repurchases. However, we believe that the window for ultra-low mortgage rates is beginning to close as positive economic data and strong signs of a housing rebound continue to capture the attention of market participants and regulators. This is not to say that the time for buying a home or refinancing has passed. On a historic basis, mortgage rates are still very low and many homes are still selling at reasonable valuations. If you currently have a 5-7% mortgage, refinancing can still make a lot of sense. The general rule is to seriously consider refinancing if your mortgage rate is 1% or more than the current market rate.
More questions? Browse answers or learn if you should rent or buy a home.

Related Articles
->Should You Refinance Or Buy Now Since Mortgage Rates Are Rising?
->What Should I Know When Negotiating A Mortgage?
->Should You Be Worried That Mortgage Rates Are Now Rising?
->How Far In Advance Are You Locking In Your Mortgage Rate?
->Jumbo Mortgages Are Back In Style
->Refinancing a Second Home
->Who Can Claim the Mortgage & Property Tax Deductions in a Divorce?
->Should I Refinance My Mortgage?
->Getting Accurate Mortgage Closing Cost Estimates