It's important to keep an eye on your credit report and credit score for many reasons. One of the key reasons is that they are used by lenders to determine if you are eligible for a loan, and if so, at what interest rate. The higher your credit score, the better chance you'll have of getting a loan or credit card with favorable terms.
These days, many employers also use your credit history to determine if they'll hire you for a new job, and insurers may use it to determine the rates you'll pay.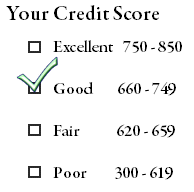 How can I improve my score?
To pump up your credit score, the most important thing you can do is pay your bills on time. Also look at the amount you owe, as well as the balances on your credit cards compared to your available limit. Using a high proportion of your credit will lower your score. Specifically, you should try not to use over 30% of your credit limit across accounts. This means that if your credit limit is 10,000 on one credit card and 5,000 on another, your debt balance across accounts should never exceed $4,500. If at all possible, start paying down your debt, which will improve your score.
Why is it important to monitor my credit report?
Your credit report and credit score play such a crucial role in your life, but errors can occur. By monitoring your report, you can catch them early and get them corrected.
And it isn't just errors you need to worry about. If you're a victim of identity theft, someone may use your personal information to open a new credit card, run up charges, and then not pay them. Unless it's caught and corrected, it will impact your credit record.
How do I monitor my report and score?
Federal law requires each of the three main credit reporting agencies, Equifax, Experian, and TransUnion, to give you a free copy of your credit report once a year. You can order the reports at www.annualcreditreport.com. However, you will have to pay to access your credit score.
While the three agencies may charge a low initial fee to access your credit score, you'll need to cancel right away if you don't want to incur monthly charges. And sometimes trying to cancel can be a bit of an ordeal.
More Personal Finance Questions? Browse Answers or Ask a Credit Expert Online below.

Related Articles
->My Parents Credit Card Account is Hurting My Credit Score
->Should I Use a Debt Settlement Company Now?
->Should My Child Be an Authorized User on My Credit Card Account?
->Should I Close My Credit Card Account?
->Selecting the Right Debt to Pay Off