The financial woes for many regional banks continue with three more shutting down this year, bringing the total to 61 as compared to 157 in 2010. While many of the largest banks (i.e. JPMorgan Chase, Bank of America, Wells Fargo & Citigroup) are in relatively stable financial position, it is always important to make sure your bank accounts are FDIC-insured.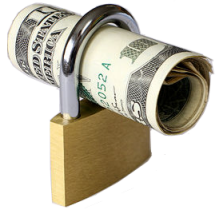 How do I know if my bank account is insured?
The Federal Deposit Insurance Corporation (FDIC) which happens to be part of the US government, insures you against the loss of your deposits if an FDIC-insured bank or savings association fails. It's not all insured though. Most FDIC-insured banks cover your total deposits with the bank up to $250,000. If you have a joint bank account with your spouse, then the total insured is $500,000.
The types of deposit accounts that qualify are checking and savings accounts, money market accounts, and certificates of deposit (CDs). Be careful with CDs though, because many brokerage houses offer CD's through an issuing bank or savings association that may not be FDIC-insured. It is important to make sure that you identify that the bank issuing the CD is FDIC-insured.
Are there any accounts that are fully insured?
Yes, if you have a noninterest-bearing account, then your entire account balance is fully insured. You can have $20 in the account or $20 million; it is all FDIC-insured. But, make sure the bank is FDIC insured. Also, this unlimited insurance coverage is in effect only through December 31, 2012 as part of the Dodd-Frank Act.
What Should I do to Protect My Checking & Savings Accounts?
If you have significantly more than $250,000 in assets with any one bank, then it might be time to re-think how you are managing your money. While you may have to pay a fee for opening up another account at a different bank, it might be worthwhile to have your money fully insured. Alternatively, you can switch some of the money to a noninterest-bearing account since it is fully insured through December 31, 2012. You'll have to assess your risk appetite, but it is something to consider with banks still failing.
Can the FDIC Fail Too?
Not really since the FDIC is backed by the creditworthiness of the US government. In the event that the FDIC does not have enough money to insure claims, the US treasury would provide a bridge loan to the FDIC. In case you're wondering how much money the FDIC has in their fund today, we took a look. In their 2010 annual report, the FDIC reported $81B in assets and $88B in liabilities but $18B of those liabilities are contingent which means the FDIC anticipates they will have to provide $18B of its funds to FDIC-insured banks. In the event that they do not have enough funds to cover claims, they would get a bridge loan from the treasury. Also, to put things into perspective, the amount of gross assets in the fund today would only cover a paltry 2% of the $3.6 trillion in deposits held at the four largest banks.
More Personal Finance Questions? Browse Answers or Ask a Financial Professional Online.

Related Articles
->The Best Bank For Small Business Checking and Savings
->More Debit Card Fees Coming
->Avoiding New Bank Fees
->Don't Opt-In to Overdraft Protection