Remember the credit card legislation that was passed in February which effectively erased billions of dollars of fees issuers charged customers?  Another law is also set to impact banks. Starting in July, banks must significantly decrease the transaction fees they charge merchants when customers pay with a debit card. In response to this new law, banks are planning to issue new changes to your debit card account to make up for this massive loss.  As JPMorgan CEO Jaime Dimon put it, "If you're a restaurant and you can't charge for the soda, you're going to charge more for the burgers."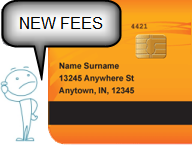 Annual Fees & No More Rewards
The, "No Annual Fees," debit card advertisement we hear on commercials will soon be gone.  Many debit cards will soon come with a $20 to $25 annual fee.  In addition, cash-back rewards for using a debit card will be limited.  Other fee hikes are also planned on ATM withdrawals for non-customers, inactivity charges, and minimum balance requirements.
Don't Throw Away Mail From the Bank
If you have not already been notified by your bank of these changes, you will be in the coming weeks. By design, the changes to your debit card account will likely be in the fine print of the new agreement.
How Can I Avoid the New Fees?
The major banks will all be introducing these new fees but the community and regional banks may maintain their current offerings.  Credit Unions (non-profit financial institutions owned by its customers) also would be an option worth considering.  They do come with some drawbacks such as not having a branch on every corner like Chase but the rates are usually better and customer service has known to be more personalized.

Related Articles
->Can You Get a Personal Loan Just by Posting Collateral?
->My Parents Credit Card Account is Hurting My Credit Score
->Don't Opt-In to Overdraft Protection
->Protecting Your Bank Account
->Unusual Credit Card Fees
->Choosing Between a Community or Regional & National Bank