The home energy tax credits that expired at the end of 2011 are now being retroactively applied to 2012 and 2013. Those that made home improvements during 2012 or plan to this year, should go through their receipts to see if they're eligible for the $500 tax credit.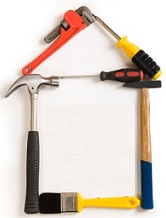 How much can I claim for the energy tax credit?
Taxpayers can claim 10% of the qualifying costs (i.e. insulation, energy efficient windows), up to $500 as a tax credit on their income tax returns. In other words, by purchasing $500 worth of loose-fill energy insulation, $50 could be claimed as a tax credit.  If you claimed the energy tax credit on any tax return since 2006, you cannot use it again in 2012 or 2013.  Therefore, if you qualify for 2012 (purchased energy efficient item(s) and placed in service during 2012), then claim the tax credit on your 2012 return.
Any Other Energy Tax Credit Restrictions for 2012?
Yes.  The maximum amount of the credit that you can apply to Energy Star windows is $200 and only $300 can be applied to wood heating systems.  Also, furnaces are capped at $200 and must be 95% efficient vs. prior year of only needing to meet the 90% efficiency requirement.
Financial Benefits of Energy Efficient Equipment
In addition to lowering your tax bill via the tax credits, your heating bill will also be reduced. Energy Star estimates that the average homeowner that insulates and seals their homes will be able to lower their annual heating & cooling costs by 20% which is equivalent to 10% of their total annual energy bill. In dollar terms, let's say your average monthly energy bill is $200, your bill will be reduced by $20 each month or $240 a year.
What are the Qualifying Costs to Improve Energy Efficiency?
Adding Insulation
Energy Efficient Exterior Windows & Doors
Roofs (Metal & Asphalt)
Energy Efficient Heating & Air Conditioning Units
Water Heaters & Stoves
NOT the services for hiring a contractor
Make Sure The Home Improvements Are Energy Star Certified
Note that most of the items that you purchase to make the improvements will need to have an Energy Star certification to qualify for this energy credit.
More tax questions? Browse answers or ask 2013 tax questions online.

Related Articles
->The Payroll Tax Cut Increases To 6.2% In 2013
->What Job-Hunting Costs Can I Deduct On My Tax Return?
->Year End Flexible Spending Account Advice
->What Does The Fiscal Deal Mean For Your 2012 & 2013 Taxes?
->Tax Planning Strategies to Mitigate Your Risk for Higher Taxes in 2013
->The IRS Is Also Concerned About The Alternative Minimum Tax Patch
->Commuters Can Now Deduct 55.5 Cents Per Mile