There are many taxpayers that actually claim their pets as a dependent on their tax returns. To set the record straight, in almost all circumstances, a pet is not a valid tax deduction. However, there are certain instances in which the pet can be deductible. Find out if your pet qualifies.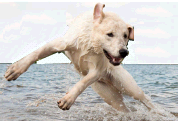 A business pet
A pet that serves a specific business purpose such as guarding inventory or for advertising functions can in fact be treated as an eligible tax deduction. In addition, the expenses associated with the pet such as medical can be offset against business income. To be eligible, the business needs to establish that having the pet is ordinary and necessary for the business. If this is the case, it is highly recommended that the business maintain supporting documentation detailing how the pet is specifically being used as it relates to the company. For instance, if a pet is guarding inventory, then it would be wise to have surveillance recording activity or a third party confirming that the dog is present at the business location. It would also be wise to have a dog breed such as a Rottweiler that is known for guarding and protecting as oppose to a very small breed.
A pet for medical purposes
If you have a pet for medical purposes such as a seeing-eye dog, then that can be an eligible deduction. The IRS specifically states that you can include in medical expenses, the costs of buying, training, and maintaining a guide dog or other service animal to assist a visually-impaired or hearing-impaired person, or a person with other physical disabilities. You will also need to have documentation supporting your illness and how a dog helps you with your daily activities.
Do you have pets and are unsure if you can deduct them on your return? Ask tax professionals this tax deduction question or any other on your mind.
Related Articles
->Lesser Known 2011 Tax Deductions to Claim on Your Personal Return
->Which Tax Records Do I Need to Keep on File?
->What Types of Travel and Entertainment Expenses Can You Writeoff?
->What Happens If I Don't File a Tax Return?
->What are my chances of being audited by the IRS?
->2011 Personal Tax Preparation Changes