Not exactly.  But, taxpayers can get what is called a Refund Anticipation Loan commonly referred to as a RAL. They are short-term loans that allow taxpayers to borrow money against the future tax refund they will receive from the IRS after they file their tax return. Although at first blush RALs sound attractive, they can come at a high cost.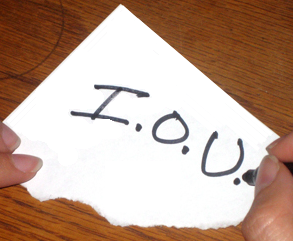 The RAL Catch
The loan is based on the refund that the taxpayer anticipates they will receive from the IRS after they file. This means that if the refund is less than the loan, the taxpayer is on the hook and may be subject to heavy interest charges and penalties if they don't pay on time. The General Accountability Office estimates that RAL interest fees and penalties can range from 36% to 500% annually. In simpler terms, this means that a $1,000 lower than expected tax refund can cost the taxpayer up to $5,000 in charges annually.
In addition, it is important to point out that RALs are issued by banks and marketed by tax preparation firms such as Liberty Tax and Jackson Hewitt (H&R Block no longer offers RALs).  Essentially tax preparation firms are marketing a product, RALs, in which they aren't even the lender that bear the financial risk.

What's a Better Option Than the RAL?
If you e-file and choose to allow the tax refund to be direct deposited into your bank account, it is likely that you can have your tax refund in less than 2 weeks and as fast as 8 days after filing your tax return.

If you really need a loan, there are other options such as a personal loan issued by a bank. It's set up for a specific length of time at a fixed interest rate. Many banks and credit unions offer personal loans, and their availability is increasing as other forms of credit dry up. Regardless of whether you apply for a secured or unsecured personal loan to get your hands on quick cash, the interest rate will typically be cheaper than that of a RAL.
Related Articles
->Why Is My Tax Refund Lower Than I Expected?
->Where Is My California State Tax Refund?
->A Large Tax Refund Isn't That Great. Tax Experts Explain.
->Paying Taxes with a Credit Card
->Advice For Filing Taxes Online