Most people know that Roth IRAs are attractive for the tax-free appreciation on the principal. Unfortunately, the tax laws for contributing to a Roth IRA are restrictive for high income earners. However, there are a few ways to get around the income limits set forth by the IRS.
Roth IRA income limits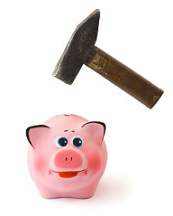 If you'd like to contribute to a Roth IRA, you can contribute up to $5,000 in 2012 and $5,500 in 2013, if you meet the maximum income requirements. Specifically, the contribution limit decreases for joint filers with an income of $173,000 or more and single filers with an income of $110,000 or more. As a side note, if you're 50 years or older, you can contribute an additional $1,000 to the Roth IRA.
What if I earn more than the maximum allowed?
You could still contribute to a nondeductible traditional IRA and then convert it into a Roth IRA. There's no income restrictions for contributing to a nondeductible IRA, which is why this strategy is popular for high income earners that would like to participate in a Roth. Please note that your traditional IRA contributions are reported on form 8606. We strongly recommend that you keep this form on file to ensure that you aren't taxed twice when the monies are eventually converted into a Roth IRA.
When is the deadline to contribute to a Roth IRA for the 2012 tax year?
You technically have until the April 15th filing deadline to contribute to the traditional IRA for the 2012 tax year. You could also contribute the maximum $5,500 for 2013 with your $5,000 2012 contribution for a total of $10,500. Then, you can convert it all into a Roth IRA and pay little, if any, in taxes. Remember, you initially funded the traditional IRA with after tax dollars, so there is no tax on the conversion to a Roth IRA.
More Questions? Ask your ira tax questions or find a New York cpa online.

Related Articles
->Can I Borrow From My IRA Tax-Free?
->Do I Owe Taxes If I Withdraw From My IRA To Pay For A Home?
->It Is Not Too Late For Retirement Planning In Your 50s
->How Much Can I Contribute To My 401K And IRA In 2013?
->Are You Putting Any Nontraded Assets into Your IRA or Roth?
->Why You Need Both a 401(K) And a Roth IRA