Most taxpayers can finally breathe a sigh of relief after filing their returns on time. However, many may still be a bit uneasy as the concern of a future IRS audit can always loom in the future. Rest assured, if you filed properly and have documentation to support the income and expenses claimed, then you have nothing to worry about. Furthermore, recently released data indicates that your chances of being audited by the IRS will decline going forward.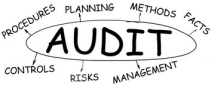 What are your chances of being audited by the IRS?
The IRS recently published its latest figures for fiscal year 2013, which covers the period of October 1, 2012, to September 30, 2013. The data includes information about the type and number of returns filed, taxes collected, enforcement, and the IRS budget, among other key statistics. As a whole, the IRS audited 0.96% of the 145.8 million individual tax returns filed in fiscal year 2013 vs. 1.03% in FY12. For those interested in more granular data the IRS examined individuals reporting:
Income under $200,000: 0.88% in FY13 vs. 0.94% in FY12
Income of at least $200,000 and under $1 million: 3.26% vs. 3.70% in FY12
Income of $1 million or more: 10.85% vs. 12.14% in FY12
Chances your business will be audited
The trend is similar for businesses as it is for individuals. Whether it's based on the type of entity or the size of the company, audit rates are declining. However, there's one exception. Only corporations with assets of $250 million or higher were audited more in FY 2013 at 33.88% vs. 29.41% in FY12. Below is a review of the examination rates for all different types of businesses for FY13.
Schedule C filers: 0.61% in FY13 vs. 0.71% in FY12
Partnerships: 0.42% vs. 0.47% in FY12
S corporations: 0.42% vs. 0.48% in FY12
Small Corporations (assets under $10 million): 0.95% vs. 1.12% in FY12
Large Corporations (assets of $10 million or more): 15.84% vs. 17.78% in FY12
Very Large Corporations (assets of $250 million or more): 33.88% vs. 29.41% in FY12
Why is the IRS auditing less?
Simply stated, they have fewer resources available to them than in the recent past. The total number of revenue officers, agents, and special agents has decreased over the last four years. For fiscal year 2013, the number of agents working for the IRS is listed at 19,531 vs. 20,868 in FY12 and 22,184 in FY11.
What can we expect going forward?
We would expect the number of audits to also decrease going forward. The IRS commissioner, John Koskinen, recently told the Associated Press that he expects the number of audits to decline. He stated that the agency plans to go after the people, "who are the worst of the bad guys." In addition, he commented that the agency will increasingly rely on technology to identify a suspicious return.
More Tax Questions? Browse Answers or ask your irs audit questions online.
Related Articles
->Tax Filing Mistakes To Avoid On Your 2013 Return
->What Increases Your Chances Of Getting Audited?
->The IRS Is Enforcing IRA Minimum Required Distribution Rules
->Thousands Of IRS Notices Were Recently Sent To Small Businesses
->Time Is Running Out To Claim $917 Million In 2009 Tax Refunds
->What You Should Know If You Plan To Fight An IRS Bill
->Choosing The Right Accountant For An IRS Issue
->What Should I Know to Avoid the Alternative Minimum Tax?