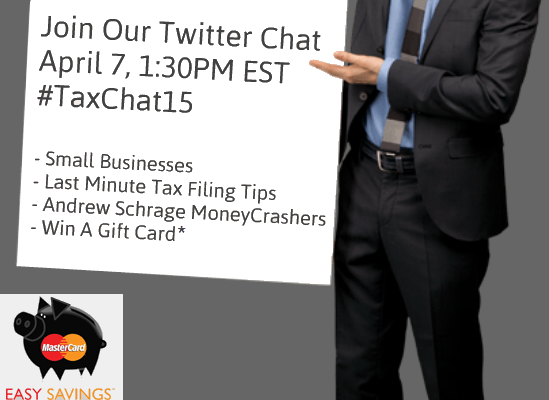 BIDaWIZ and our partner, MasterCard, will be hosting a Twitter TaxChat on Tuesday, April 7th at 1:30PM EST to discuss last minute tax filing tips for small businesses with Andrew Schrage from Money Crashers. Andrew is a personal finance and small business expert that leads the Money Crashers team in developing a community of people who try to make financially sound decisions. Andrew as well as our team of tax professionals will be answering all of your last minute tax filing questions in 140 characters or less. Also, BIDaWIZ and Money Crashers will be giving away a $15 Amazon gift card to two lucky winners that participate on the chat as detailed in the Terms & Conditions.
Hashtag: #TaxChat15
Twitter Handles to follow: @bidawiz @moneycrashers @mastercardbiz
How to participate: Follow the hashtag #TaxChat15 and you can easily keep track of the conversation by using our special chatroom here. Anyone can participate, but you must be following @BIDaWIZ and RSVP below so we can send you reminders and a $15 Amazon gift card to two lucky winners*.
Signup for a Reminder & Win A $15 Amazon Gift Card*:To Make it easier for us to keep track of attendees and provide a gift card to the winner*, please RSVP below with your twitter ID (put that in the "Link Title" field), email address, and your twitter URL (put that in the "URL" field, do not put your blog's url in there).

Update
Our winners for the Tax Chat are @ctsweeper and @OHsportsgirl