One of the toughest aspects of starting a business is knowing when it's time to call it quits. When that time comes the business owner needs to balance the trade-off for trying to get the most money for the company versus exiting quickly. It's very difficult to achieve both. However, it can be an easy decision if the business can no longer survive on its own.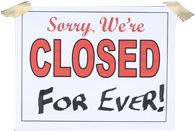 Selling remaining inventory in bulk
Let's assume that you're anxious to sell the remaining inventory or assets as soon as possible. Your first step is to identify other businesses that value the assets you have remaining in the business. This may be direct competitors, suppliers and complimentary businesses. They may not give you the best price, but it will be the quickest method to sell the inventory. If the goods have an expiration date in the near future, don't bother with your supplier because they'll just be in the same position that you are in now.
Selling at an event or conference
If you've failed to find a bulk buyer of your goods or assets, the next step is to go to the local markets or outdoor events that will allow you to sell at their venue. It's sometimes difficult to become an approved vendor at these events quickly, but it's certainly worth a phone call with the organizer.
Consider an asset liquidator
An asset liquidator can be helpful in selling the remaining inventory. However, they'll typically charge a flat fee or participate in a revenue share. If you go this route, be sure to interview several different liquidators that have specific experience with selling your goods.
Your last option is to push a hard sell at your own location. This means deep discounted promotions and buy one get one free flyers and signage.
More Questions? Ask your business questions or find an accountant online.
Related Articles
->Which Employees Should Your New Business Hire First?
->The Benefits And Dangers For Partnering With Another Company
->Should You Seek Venture Capital For Your Business?
->What Should I Include In My Business Plan?
->What Financial Advice Should I Know When Launching A Business?