In the upcoming year, most businesses will face higher costs for shipping, insurance, health-care, and labor. The economy is expected to grow at a 3.1% rate versus 1.9% in 2013, which should offset some of these rising costs. What costs can you expect to rise the most in 2015?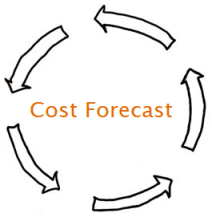 Shipping costs to rise with a growing economy
If you're shipping using trucks, expect a 6-7% increase as companies need to meet new regulations and the demand is currently outweighing the supply. Rail freight will also increase, albeit closer to 5%. The cheapest option for shipping in bulk internationally will continue to be via sea. However, shipping via sea may cause additional delays as there is further congestion in the ports. Regular mail costs should also rise by 3% with overnight delivery rising closer to 4%.
Health-care costs to rise the most for prescriptions
Employers can expect to pay at least 3% more this year than they did in the previous year as a result of rising health care costs. The health care exchanges will keep costs from rising at a higher rate in future years. Higher co-payments and deductibles will also offset the rising expense. Employers and employees should also anticipate that prescription drug costs will increase at a whopping 10%+ as the cost for specialized medicines faces supply constraints.
Modest increases to labor costs
Salary costs should increase in step with the annual expected pay raises or 2.5% as the labor market continues to improve. IT and professional services should experience the highest rise in wages. Office rents should increase in-line with salary increases or 2.5%. However, it's important to note that office rents can vary drastically by business location.
General & administrative expenses
Property and casualty insurance premiums should rise about 3%. However, business interruption and cyber liability insurance should increase between 3% and 5% due to the growing popularity of these policies. Directors and officers insurance will also rise, but much less than in the prior year or closer to 5%.
As for professional services, accounting fees may rise as increased regulations will demand more time on company engagements as was the case this year. Legal rates should remain flat.
Travel and entertainment expenses should increase around 2-5%. Hotel supply issues and new fees may result in closer to a 5% increase. Airfare should only modestly increase as fuel costs are expected to fall in 2015 and carriers continue to streamline expenses.
More Questions? Ask your business planning questions or find a good accountant online.
Related Articles
->Updating Your Five Year Strategic Plan
->Do You Have To Pay An Employee On Leave?
->Identifying The Best Location For Your Business
->What Should Businesses Do To Protect Themselves During A Recession
->What Are The Tax Penalties For Not Having Health Insurance?
->Can Self Employed Business Owners Deduct Medicare Premiums?
->How Have Small Businesses Reacted To The Health Care Mandate?
->Preparing For Rising Business Costs In 2014