A fraudulent scheme impacting landlines has now migrated over to the mobile phone arena. This growing trend targets those mobile phone users that share their numbers with certain businesses.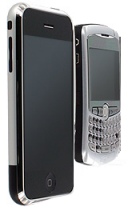 How Mobile Cramming Works
A business or organization may request your mobile phone number to enroll you in a free trial or for another purpose. That same company may intentionally or inadvertently disclose your mobile phone number to a third party. Then, the third party signs you up for a service and is paid through your mobile phone service provider.
Unauthorized charges can go unnoticed
Typically, mobile phone bills can be several pages long. Unless you compare charges throughout the year and review the fine detail as you should, it's possible that you may never notice the charge. This can result in several hundred dollars of unauthorized charges. These charges can be labeled practically anything.
What can you do to prevent it?
Be careful not to disclose your mobile phone number on a website or other publicly available source. Rather, treat your mobile phone number as you would with your credit card number. In addition, use caution when providing your mobile phone number to a website for signup purposes. Many mail clients such as Gmail and Yahoo request a phone number to signup, which is legitimate. These are large companies with respected brands that utilize the information to better offers services to their clients. If an unknown brand with a limited track record is requesting this information with no logical purpose, you should be suspect.
What if you are a victim of unauthorized mobile phone charges?
Contact your mobile phone provider immediately and request that they block third party billing. Also, complete an online complaint form via www.fraud.org, which is shared with law enforcement and other consumer protection agencies.
More Questions? Browse answers or ask your finance questions online. Also, you can explore our tax research services online.

Related Articles
->Protecting Your Phone Against Identity Theft
->What Is The Best Way To Prevent Calls From Telemarketers?
->Lower Your Data Roaming Charges While Traveling Abroad
->My Neighbor Was The Victim Of Identity Theft. How Can I Avoid It?
->Protecting Your Bank Account Information After The Data Breach