Many taxpayers have their retirement portfolios held in a 401(k) or employer pension plan. They do so for the tax-deferred appreciation, the reduction to adjusted gross income and the matching program that's likely offered with their employer. However, employees have become far too complacent when it comes to selecting a fund in their portfolio that charges low fees.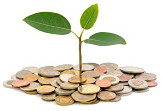 Investment manager fees
The fees investment managers charge vary significantly. However, generally mutual fund managers charge a fee of about 1.5% of assets. That may not sound like much, but when you compare it to an index fund with a fee as low as 0.2%, the difference is significant. Still, let's put these fees into perspective. Most mutual funds will generate 5 to 10% in returns during any given up market year. The 1.5% fee for a managed mutual fund investment as a percentage of an 8% return is nearly 19%. This compares to a 2.5% expense ratio for an index fund with a similar return. Thus, you need to ask yourself what is the value that the investment manager is providing and does it justify the fee. The answer is likely no. The lesson here is that it is always important to look at fees as a percentage of returns, not just assets.
What should I do when reviewing my 401(k)?
Most of the investment options for 401(K)s are restrictive and most of the fund fees are high. With that backdrop, it's difficult for managers to outperform the market. We recommend that investors should review mutual funds that charge the lowest fees in addition to deciding whether or not they want to invest in a small cap or big cap or emerging market fund. Returns in many respects can be unpredictable. However, the fees are actuals and stated clearly in the fund prospectus.
More Questions? Browse Answers or ask your mutual fund fee questions online.

Related Articles
->Will This Stock Market Rally Last Through 2013?
->Do You Know What The Fees Are For Your 401(K) Plan Now?
->Your Employer May Soon Change Their 401K Matching Program
->It Is Not Too Late For Retirement Planning In Your 50s
->Should I Invest In Municipal Bonds For the Tax Savings in 2013?
->What's An Effective Hedge Against Inflation Besides Gold?